Prices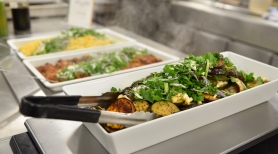 Every weekday, the canteen at AAU CPH serves hot and cold food. You'll always find the 'dish of the day', a vegetarian dish and various sandwiches and salads. Hot food is served between 11:00 and 14:00.
The canteens at AAU CPH are run by Chartwells.
Dish of the day, vegetarian dish: kr. 8,95 pr 100g.
Salad box: 27 kr.
One size Sandwich: 28 kr
Panini: 28 kr.
Sodavand: 20 kr
Kildevand: 11 kr
Stor kaffe: 10 kr
Lille kaffe: 8 kr
Catering
You can order catering for meetings, conferences, receptions, etc. in AAU CPH's canteen.
Please use the online catering portal (use the link below). The first time you log in, you need to create a user profile.
If you have any questions or need assistance with your order, please contact the canteen at DK1796@chartwells.dk
Deadline for orders:
All orders must be placed by noon the day before the event. If you are ordering catering for a large event, the order must be placed three days before the event.
Opening hours
The large canteen in building A
(A.C. Meyers Vænge 15):
Monday to Thursday: 8:00 - 15:00
Friday 8:00 - 14:30
The small canteen in building B
(Frederikskaj 12):
Monday to Thursday: 8:00 - 14:30
Friday 9:00 - 14:00
How to find us
The two canteens at Aalborg University Copenhagen:
The large canteen is located in the main building, building A at A.C. Meyers Vænge 15.
The small canteen is located in building B at Frederikskaj 12
About us
Food is your medicine. Medicine is your food.
Hippocrates once said these words.While we know that this isn't the entire truth, we are nevertheless inspired by this philosophy. Our motto is 'Know Your Food,' and this means that we build our meals to promote good health. That is why you'll always be able to find a selection of nutritious food and healthy snacks in all AAU canteens.
All canteens at AAU are run by Chartwells, which is part of the Compass Group. Chartwells is specialised in running canteens at Danish universities and employ more than 4,500 people in Denmark.