Prices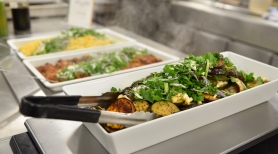 Hot food and salad bar: DKK 8.95 per 100g
Also available daily
Small sandwich: DKK 27
Large sandwich: DKK 32
Soft drinks: DKK 20
Mineral water: DKK 11
Large coffee: DKK 11
Small coffee: DKK 8
Opening hours
Monday: 07:30 - 14:30
Tuesday: 07:30 - 14:30
Wednesday: 07:30 - 14:30
Thursday: 07:30 - 14:30
Friday: 07:30 - 14:00
Contact the chef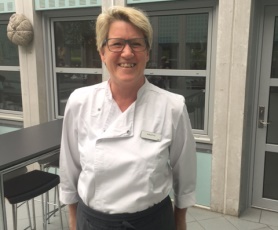 Suggestions, questions or comments about AAU's canteens?
Feel free to contact Chef Annette Pedersen.
Tel.: +45 9940 7671
Email: dk3810@chartwells.dk
About us
Food is your medicine. Medicine is your food.
Hippocrates once said these words.While we know that this isn't the entire truth, we are nevertheless inspired by this philosophy. Our motto is 'Know Your Food,' and this means that we build our meals to promote good health. That is why you'll always be able to find a selection of nutritious food and healthy snacks in all AAU canteens.
All canteens at AAU are run by Chartwells, which is part of the Compass Group. Chartwells is specialised in running canteens at Danish universities and employ more than 4,500 people in Denmark.